August 2020 Black Belt Test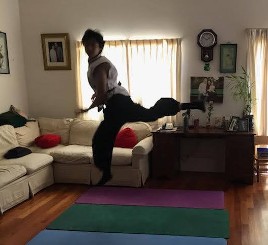 Congratulations Black Belt Grads from the first ever Zoom test on 8/15/20 in San Francisco. Black Belt Candidates and Black Belts going to 1st, 2nd, 3rd, 4th, and 5th degree black belts got to show off their skills and determination in the first ever Zoomed Black Belt Test on 8/15/20.
Grand Master Wong, Master Chow, Sifu Felipe Godoy were present and physically distanced (of course) at the headquarters Academy hosting the Zoom test and Black Belt Ceremony for students of the San Francisco, San Mateo and associative One Tribe Martial Arts Academy in Concord, CA. Students performed their required skills from the homes for the 4 hour test and after a short break were invited back for the Black Belt Ceremony where their new Black Belts and Certificates were presented - again via the internet. Students were able to pick up their real Belts and Certificates one by one the following days.
Also thanks to Sifu Mike Lee, owner and chief instructor and Sifu Luke Neher of One Tribe Martial Arts in Concord for their help in the Zoom test; Tat Wong Kung Fu Academy instructors, Sifu Katrina Seto and Sijeh Sara Lim for their encouragement during the test and ceremony, and Sihings Clinton and Will for helping the Candidates prepare for the test.
Congrats Graduates - great job persisting through these tough times and persevering with training at home, outside, through Zoom and YouTube and achieving your goals!
TWKFA San Francisco:
Cynthia Chan - 5th Degree
Claire Art - 2nd Degree
Kaden Leung - 2nd Degree
Julia Howe - 1st Degree
Caroline Chang
Ares Bandebo
Lisa Petrowsky
Tony Oda
TWKFA San Mateo:
Ryan Ng - 3rd Degree
Russell Mecua
One Tribe:
Ismael Zamora - 3rd Degree
Daphne Haury-Pua - 1st Degree
Julian Lim